Miami - Coral Gables
Our restaurant in Coral Gables is located on Ponce de Leon Blvd just steps away from the Miracle Mile, the heart of shopping and dining in The Gables. Located within The Plaza Coral Gables, the restaurant features an open-air churrasco bar where guests can dine and watch gaucho chefs display the culinary art of churrasco as they butcher, prepare and grill different cuts of meat over an open flame. The restaurant features an outdoor dining patio, soaring wine displays, dry aged meat lockers for in-house aging and a lively indoor bar, ideal for all-day happy hour. Additional experiential elements unique to this location include The Butchery, where guests can enjoy a glass of South American wine and charcuterie as they consult with Fogo's expert butchers on the best cut of meat freshly carved and packaged to grill at home. On the mezzanine level in the Next Level Lounge, guests can relax in an intimate setting with premium whiskey, bourbon and aged rums.
Parking
Self-parking and metered parking available during lunch and dinner. Valet parking is available during dinner hours for $12.
ALL DAY HAPPY HOUR
Join us for All Day Happy Hour at Bar Fogo featuring $5 beers, $7 South American wines and $9 Brazilian-Inspired Cocktails.
To-Go and Catering
Bring the Fogo experience to you. Order Fogo To-Go or Catering and let your guests enjoy a Churrasco experience of fire-roasted meats, Brazilian sides, seasonal salads and more. Or try our Fogo Butcher Shop selections of ready-to-grill-cuts.
Hours
DINNER DINE-IN

Mon - Thu 2:00 PM - 10:00 PM
Fri 2:00 PM - 10:30 PM
Sat 2:00 PM - 10:30 PM
Sun 2:00 PM - 9:00 PM
LUNCH DINE-IN
BRUNCH
SAT - SUN 11:00 AM - 2:00 PM
DELIVERY
MON - THU 11:00 AM - 9:30 PM
FRI - SAT 11:00 AM - 10:00 PM
SUN 11:00 AM - 8:30 PM
CURBSIDE & CARRY OUT PICK-UP

MON - THU 11:00 AM - 10:00 PM
FRI - SAT 11:00 AM - 10:30 PM
SUN 11:00 AM - 9:00 PM
Events
CARNIVAL CELEBRATION BAR EVENT
Kick off Carnival early on Thursday, February 9th with a night of drinks, food, and fun at Bar Fogo! Celebrate with the signature cocktail of Brazil—the Caipirinha, passed Bar Bites, and more. $29 per person. Make your reservations now, space is limited.
THE BUTCHERY
The Butchery is a grab and go market that celebrates the art of churrasco and the Brazilian hospitality our gaucho chefs display every day. Guests can enjoy a glass of South American wine and imported charcuterie in The Butchery as they consult with expert butchers on the best cut of meat, freshly carved and packaged to grill at home. Bottles of South American wines, artisanal cheeses and other Brazilian-inspired items are available daily to enjoy around the butcher's table or for purchase to-go.
NEXT LEVEL LOUNGE
The Next Level Lounge is located on the mezzanine level and is available to enhance your dining experience or be a destination of its own. Guests can enjoy an elevated setting while discovering craft cocktails, South American wines, and a carefully-selected premium whiskey & bourbon menu.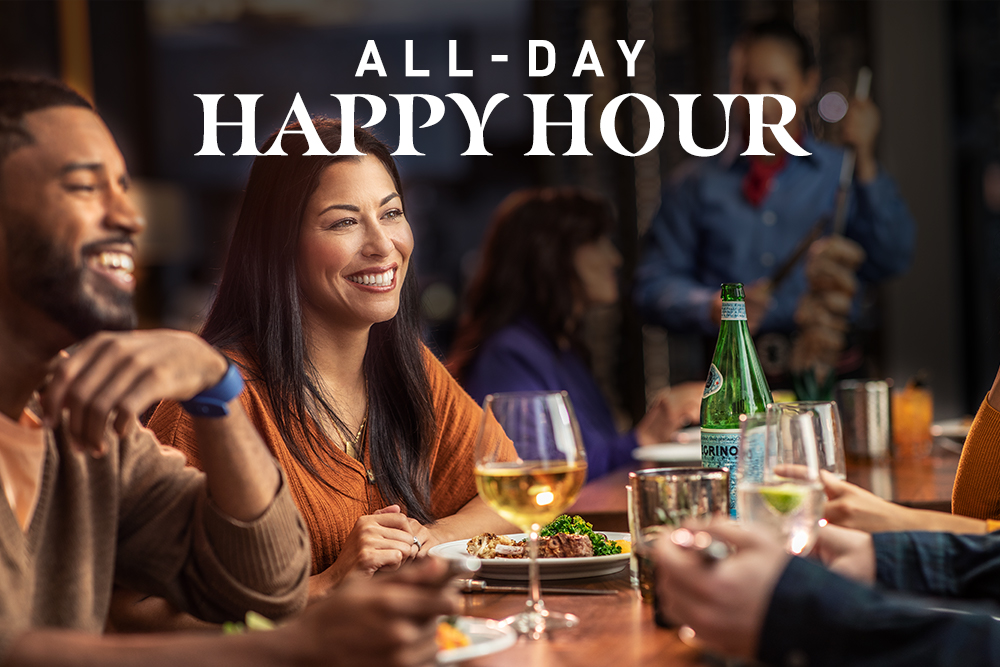 FOGO HAPPY HOUR. SO GOOD, IT LASTS ALL DAY.
We're offering Happy Hour Specials and Half-Price South American bottles of wine under $100. All Day Every Day. In the dining room and bar. So drop by anytime.
Group Dining
Whether celebrating a special birthday, hosting a large corporate meeting, or a complete buyout of the restaurant, Fogo is the ideal place for groups of all sizes. Our dedicated sales managers will offer a range of customizable menus, package options, private and semi-private dining spaces to suit your needs.
Meeting Planner Friendly
Dedicated Sales Manager, HMCC Certified
Accommodate Groups of 15 to Full Restaurant Buyouts
Award Winning Cuisine and Service
Beautiful Private and Semi-Private Dining Rooms
Inclusive Packages